Just a month ago, I purchased the Gold N Hot 1400 to help with my deep conditioning and speed up the styling process.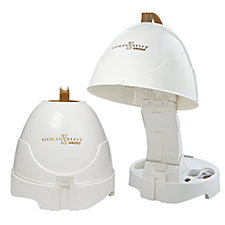 Well.... I just took the dryer back today and ordered a new one. This dryer is approximately $40 and it basically gets an "F."
1. It was great for deep conditioning because you don't need your hair to dry. You just need some hot air on the product
2. It's not very sturdy. On more than one occasion, it came crashing down on my head. Not only was it annoying, but it scared the crap out of my little dog, Roxie.
3. My hair does not dry easily. Since the age of five, I have spent A LOT of time under the dryer. So I didn't think the dryer would dry my hair in 20 minutes, but I did expect SOMETHING. This thing did nothing for me. I would probably have to sit under the thing for 24 hours for my hair to dry in curlformers. I don't expect salon power out of these things, but I expect A LITTLE drying help.
I hate taking stuff back. I know it's dumb because you shouldn't pay for something that doesn't get the job done. I wanted to love this dryer, but IT DID NOT WORK for me. I took it back to Sallys and ordered a Conair Babyliss dryer. Hopefully it gives me a little more help. Again, I'm not expecting a miracle, but I want something that I can sit under without fear of it crashing on my head and I want it to actually work towards drying a large portion of my hair.